The Magic of Collaboration
Collaboration and Community Building
Marilyn is an expert in bringing a range of resources to the same table and fostering a spirit of cooperation and purpose.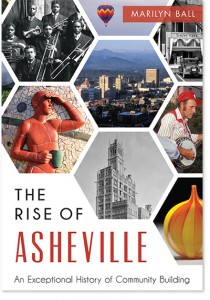 In this inspiring presentation and with the success of her book, The Rise of Asheville: An Exceptional History of Community Building, Marilyn will teach you how to establish more effective and focused strategies to achieve your individual and collective goals… by dreaming big and bringing in others to dream big with you.
Discover how the magic of collaboration transforms us in the process and what you come away with is far better that any great idea one person could ever have.
• Leverage opportunities and grow your business
• Cooperate with your competitors and your community at the same time, make more money and sustain your business
• Learn how to take the first step in collaborating
In this presentation you will learn:
How to build a collaborative culture based on openness, complete transparency and trust.
What you can achieve by collaborating with others.
How collaboration adds value to your organization.
What goes into developing clear, shared goals and objectives.
For more information, contact Marilyn at info@12twelve.me.