Emcee, Moderator, Keynote Speaker

Marilyn is an energetic stage presence for your
conference, workshop, or panel discussion.
If you're looking for an emcee, moderator, or keynote speaker who delivers inspiring and motivational information, Marilyn Ball delivers! In addition to teaching and speaking before both small and large audiences, Marilyn is also the host of the popular radio show, Speaking of Travel. She is comfortable as a moderator and host, providing connection throughout any event. She can also conduct interviews with your guest speakers who would prefer a Q&A rather than giving a speech.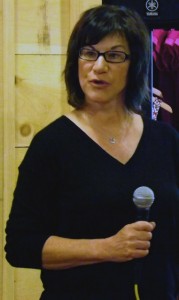 Marilyn can speak about her experiences with collaboration and marketing, including how partnerships and leveraging will work to your advantage. She can also address her years in small business, including 18 years running a successful advertising agency.
With the success of her recent book, The Rise of Asheville: An Exceptional History of Community Building, there are opportunities for discussions centered around lessons learned from past successes. Her stories are a blueprint and inspiration for those who have a vision for where to go next.
Whether you have  a workshop or conference, an event with thousands of people, or even just a meeting with your team, Marilyn structures her presentations with clear and compelling storytelling, taking your audience on an exciting journey … the kind that inspires action and paints a vivid picture of what could be. And then she arms her audience with the roadmap to get there.
For more information, available dates and pricing, contact Marilyn at info@12twelve.me.
"Just as they did it then, we can do it now. Let's talk. Let's give it a try. The future is in our hands." Marilyn Ball